This article is intended to guide you, as (potential) Click2Sell affiliate, through our system and show how you could benefit from various Click2Sell Affiliate Tools to promote products successfully.
These points will be covered in the article:
Click2Sell marketplace
Various details of products and merchants
In-depth affiliate tracking reports
Collaboration of affiliates and merchants
PayPal – Moneybookers affiliate commission payments
I have illustrated almost every aspect of this article because I believe that various screenshots will tell you a lot more than hundreds of words.
Click2Sell Marketplace
So, let's say that you already have free Click2Sell account. Let's take a look at the marketplace.
Below you can see how it generally looks like:

At first glance you can see such basic information like product's name and description, its rank in the marketplace, its price, commission sizes in percentage and in money, conversion rate which is very important indicator.
Naturally, in the first pages of the marketplace you can find the best performing products in Click2Sell. By looking at upward and downward arrows you can find out any products performance's tendency in the marketplace.
Details of Products And Merchants
Of course, price, commission size and conversion rate are not the only visible information about products. Click on "More Info" (on the right) and there you will find more useful information about a product you're interested in. Let's analyze one sample "More Info" page.
At first we see "Product Details":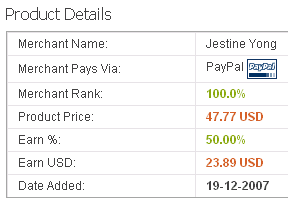 Here we can see merchant's name, his/her commissions payment method (in this case PayPal). Also you can see his/her rank which indicates how reliable this merchant is. As you see, Jestine Yong's rank is 100%! It means that he has paid all his fees and commissions in time without any problem! So he's definitely a person with whom you would want to do business.
Ok, let's look at the next table. It's called "Product Statistics":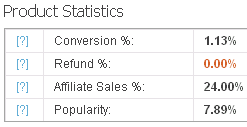 Here we once again see conversion rate (1.13% rate is quite good), refund rate (can you believe it? there was no refund for this product at all!), affiliate sales rate which indicates what part of this merchant sales is generated by affiliates, and popularity index which shows product's relative popularity among Click2Sell affiliates.
So we've got quite detailed background of the product and now you can decide if this product is worth your efforts to promote.
In-depth Reports of Your Promotions
So you have picked this or another product for promotion. Got your affiliate link, brought some traffic to your affiliated product. I want to show you how your statistics reports could look after some time spent for promotion.
This is the view you would see once you login in to your account: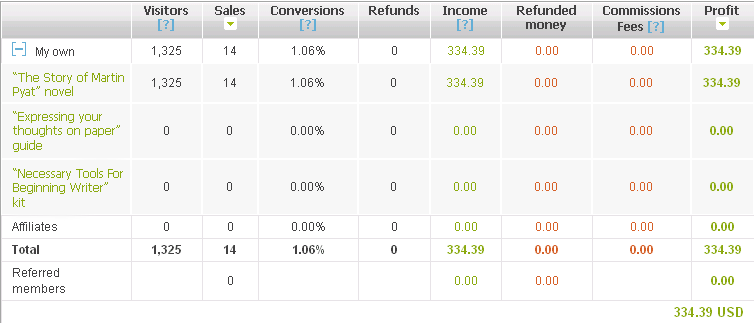 As you see, in general report is listed detailed information about your promotion: how many visitors, sales, conversions, number of refunds and, of course, your earned money. You can change time range of these statistics: today, yesterday, last 7 days, last 30 days, this month, last month, this year. Let me remind you that this is just a general report and it shows only the basic information about your product's overall performance.
I'll show you how your daily report could look:

In "Daily Statistics" you can see how your campaigns performed each every day. You will know exactly how many views, visitors, sales there were on a certain day, what was conversion rate, how much money you earned on a certain day. That's cool, right?
There's another statistics that will help you to find out strong and weak sides of your promotion – referral report:

These are traffic sources of one technical product. You can clearly see which websites bring you the most targeted traffic and which websites are so-so or simply don't get you any buyers. So you will be able to dump unprofitable traffic sources and concentrate your advertisement and promotion on such websites which bring you enough buyers.
Tracking channels
In pages described above you are able to see your "total" promotion results, however there is a page where you can setup different campaigns. This is an example statistics table:

By creating different campaigns you are able to track each of your promotion channel and clearly see how each of them performs. From this table we can see that "alternative 2" and "email adv" campaigns are equally profitable, while "mailing list" campaign made you much less money. It is yet another method to filter out poorly performing promotion channels and then concentrate on good ones.
Your collaboration with merchants
All above mentioned things are very helpful to do your job independently. However there are times and cases when you just can't do this or that alone. You need to get in touch with a vendor of your promoted product.
There are two important things in collaboration with merchants. These are:
Special page where you can find merchant's provided promotional material: email letters and signatures, articles, banners.
You can find it by clicking on "Tools" link in "For Affiliate" section.
Products vendors usually are the persons who know their products and their niche best. So their made promotional tools are invaluable help for you.

Communication page.
Got some questions for a vendor of your interested product? Have any suggestion to him? Want to ask your merchant to improve commission rate for you?
Merchants also can contact you likewise: to announce about a new version of your promoted product, inform about some changes and so on.
PayPal – Moneybookers relationship
As Click2Sell supports both PayPal and Moneybookers for paying/receiving affiliate commissions, you might ask us what to do if you have only Moneybookers account while a vendor pays only by PayPal funds. It is not possible to pay from PayPal to Moneybookers. So I suggest you contact the vendor and ask him/her if he/she is wiling to get an account on another system (PayPal or Moneybookers) just for paying you. The most likely scenario will be that if you make them some affiliated sales, they will gladly get an account on another system and pay all your commissions. In the worst case scenario, the vendor will pay to us and then we will transfer the money to you.
The summary
As you see, on Click2Sell.EU you can do your affiliate activities without being blind: you can get full product's or merchant's background, see very detailed statistics and thus surgically exterminate weaknesses of your promotion campaigns, contact vendors if there's any need.
Here you know very exact and true information of "why, when, where, who, how much and how many".
Just come and start using Click2Sell. It's absolutely free and quick!
I hope this article helped you to see the potential of Click2Sell affiliate panel.
Regards,
Vytis
Popular Posts:
Similar Posts: