Every day we get a lot of new questions from affiliates. They ask us questions on how they could jump in and start promoting products online using Click2Sell.EU system. When Click2Sell.EU system was being created, we tried to simplify the affiliate signup and product promotion process as much as possible. However, we also feel that we need to educate our members more, so they could understand Click2Sell.EU better and their way to success would be shortened.
Let me show you what steps you need to take in order to start promoting products via Click2Sell system.
This guide won't be long as the whole start-up process is simplified as much as possible.
So, those few steps are:
Go to Click2Sell marketplace.




There you will see a list of products, search box and products categories.
You can choose your desired categories or search for something (eg., "kids" if you feel that you're best at promoting products related to such keyword).

Look at the list of products. There are some statistics about each of products and at the end of each entry there are two links: "Promote" and "More Info" (an example below).

By clicking "More Info" you will see merchant's name, commission payment ways, various statistics, history of performance in the marketplace.


If you decide to promote this or that product, you have to click on "Promote" link of appropriate product.

(If you are not logged in, at this moment you will be asked to login).

Unique affiliate link will be shown to you in various forms. Choose one of them.

Please note that your chosen affiliate program won't be shown in "For Affiliate" section until you refer/make 1 visitor through your affiliate link. So if you are going to choose several products for promotion at once, I suggest to write down given affiliate links.

That's all!
If you want to review your affiliated products campaigns, you can find everything (statistics, promotional tools, affiliate links) in "For Affiliate" -> "My Campaigns" section: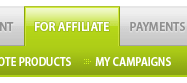 Click2Sell affiliate links lead to merchant's provided sales-pages, so you don't need to create a sales page yourself.
Once you make an affiliated sale, you will be automatically credited and the merchant will pay you your commission on the beginning of the next month.
I hope this guide helps you. If not, just contact us and tell us your questions.
Vytis
Popular Posts:
Similar Posts: