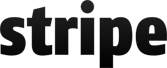 We are glad to welcome Stripe to our "family"! Click2Sell system already supports 12 merchant account providers (full list here) which means that if you have, let's say, a PayPal or Authorize.net account, then you can accept payments from your customers directly to these accounts, have full affiliates tracking, nice real-time reports, easy products managements and so on and so forth.
Now you can have all these benefits for your Stripe account too! Add your Stripe account into your Click2Sell account and this is what you get immediately:
Full affiliate tracking. Don't be alone in promoting your services or products. Now others can do this job for you and you won't overspend for their advertising campaigns! Why? That's because you will have to pay commissions only for fully completed sales. Actually, you might just leave your product/service advertisement to others altogether, yet have full details of how each of your affiliates perform.Let's see, a nice day of 100 new sales to your Stripe account? Just log in to your Click2Sell account and get a full report of who of your affiliates are responsible for this successful day.
Easy products management. Click on "Add product", spend 1 minute for going through all the options and then add its newly generated buy button or link to your product website. That's it. No manual coding or other technical hassle. All purchase forms, checkout pages, custom purchase questions, delivery of product file will be automatically and immediately provided to you.
Real-time reports. Details of each of your customers? Stats of today sales or visitors? Day-by-day breakdown of your sales? Sources of your website visitors? Conversions of different products or plans? Yes, of course, you get all this stuff.
Our fees for all this? Just one, two or three bucks for a completed sale. No registration, monthly, upgrade, support or any other kind of fees. Don't worry about that. Actually, considering that affiliates will drive you sales, their referred additional income will completely cover our fees.
How to begin
Here's how you add your Stripe account into your Click2Sell account in a couple of minutes:
Register (signup link) and log in to your Click2Sell account;
Go to My Profile -> My Payment Processors page;
Choose Stripe in Step1 to add it;
Choose Stripe in Step 2 in credit card slot to activate it.
That's it, you can start adding your products in "For Vendors" section, putting their buy links into your product website and profit.

Popular Posts:
Similar Posts: